Working in childcare is exceptionally rewarding, and our responsibility to safeguard children every day is not to be underestimated. Parents entrust their children in our care because Family First pledge to keep them safe and enhance their early years development.
The safety and wellbeing of all our children, parents and staff is our number one priority.
Our Teams
At Family First, we take our safer recruitment procedures very seriously and we have a thorough process for checking the suitability of all individuals, from the initial stages of application and interview and throughout their time with us. All our employees have been processed through the Disclosure and Barring Service (DBS), which includes an enhanced police check before they start work.
Although DBS checks are only required at the beginning of employment, we commit to renewing these checks regularly as an additional safety measure. In addition, we have ongoing suitability checks and workforce supervisions to ensure training and development needs are supported. We also require two satisfactory written references and pre-employment health declarations are also considered.
It is essential that our teams are confident and equipped with the knowledge on how to deal with safeguarding issues and we are committed to enhanced training for all. It is compulsory for everyone to complete a Level 2 certificate in Safeguarding and Child Protection annually, alongside other specific training around our responsibilities in regard to the Prevent Duty. Each of our Room Leaders attend an Interagency Child Protection course and all our Designated or Deputy Designated Safeguarding officers have attended the Advanced Inter-agency Child Protection course and attend 6 monthly Safeguarding Cluster meetings too. Every member of the team holds a Paediatric First Aid certificate which is refreshed every 3 years – we also run First Aid courses for parents too.
Safeguarding children is also recognising when adults in their lives are struggling. This is common, and we are on hand to offer advice and support for a whole range of parenting issues from weaning and feeding, sleeping, tackling tricky behaviour to developmental concerns. We are also able to signpost parents who need confidential specialist support, for example those suffering from anxiety, depression and those experiencing trauma.
Our Nursery Environments
Our nurseries have security systems in place to prevent unauthorised access to the nursery. Door codes are not shared externally, and our teams ensure that everyone is greeted at drop off and collection, this helps us to build relationships with parents and carers, and to be there for questions, advice and support.
The teams regularly assess the risks in their environment, but sometimes children will have bumps and falls, and this is a normal stage in their development as they negotiate different spaces, other children, and their ever-growing little bodies. Our teams are expected to supervise children at all times and record and inform us of all accidents. We regularly monitor any trends to ensure our environments and resources are safe and appropriate.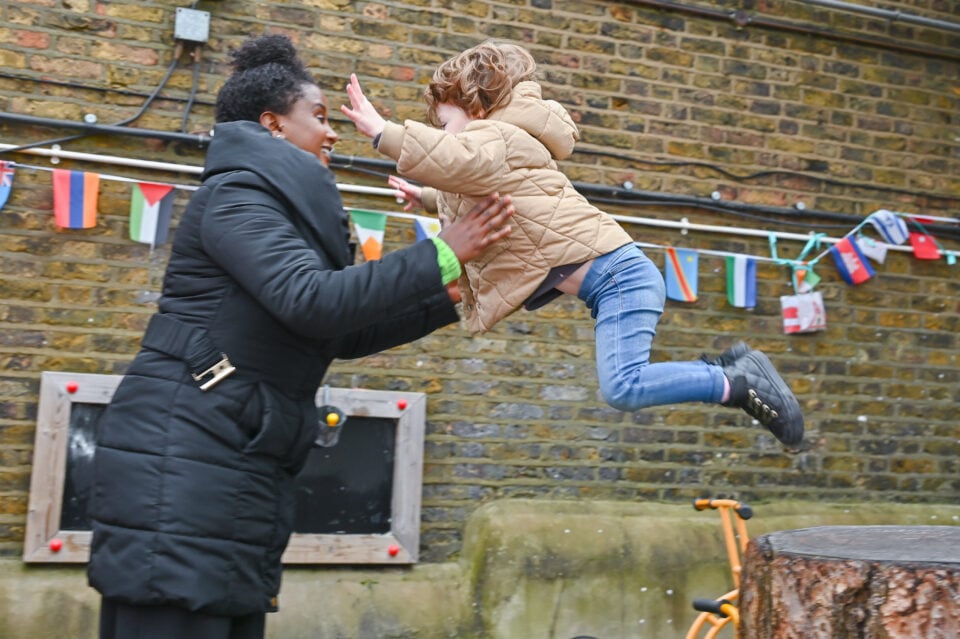 Our Technology
We invest in IT and security to ensure all data is safe and we comply with GDPR.
We have secure nursery management systems with the capability to track, access and monitor information. Tablets used to take photos and record children's 'wow' moments for their learning profiles are only connected to our internal networks so images cannot be sent externally. All systems have controls to only allow access to safe sites and materials and when being utilised by children this is always supervised. As you would expect personal mobiles cannot be carried by team members during the course of their working day and are only accessed on breaks in child free areas or off site. Emergency nursery mobiles with no camera feature are carried by the team when out and about.
Our Policies
Our full safeguarding policies form part of the induction and onboarding process of all individuals.
Employee Code of Conduct
To ensure the safeguarding of our children, parents and staff throughout our nurseries, our Employee Code of Conduct sets out the expected standards and behaviours of our teams. We enjoy working together and promote wellbeing, kindness, respect, and celebrate cultural differences in a fun and caring environment.
We identify boundaries, responsibilities, and acceptable behaviour, and build relationships with all parties with trust and utmost integrity. Everyone has a duty to respect each other and our families by valuing cultural diversity, opinions and choices without judgement.
Our Employee Code of Conduct policy is available to read.